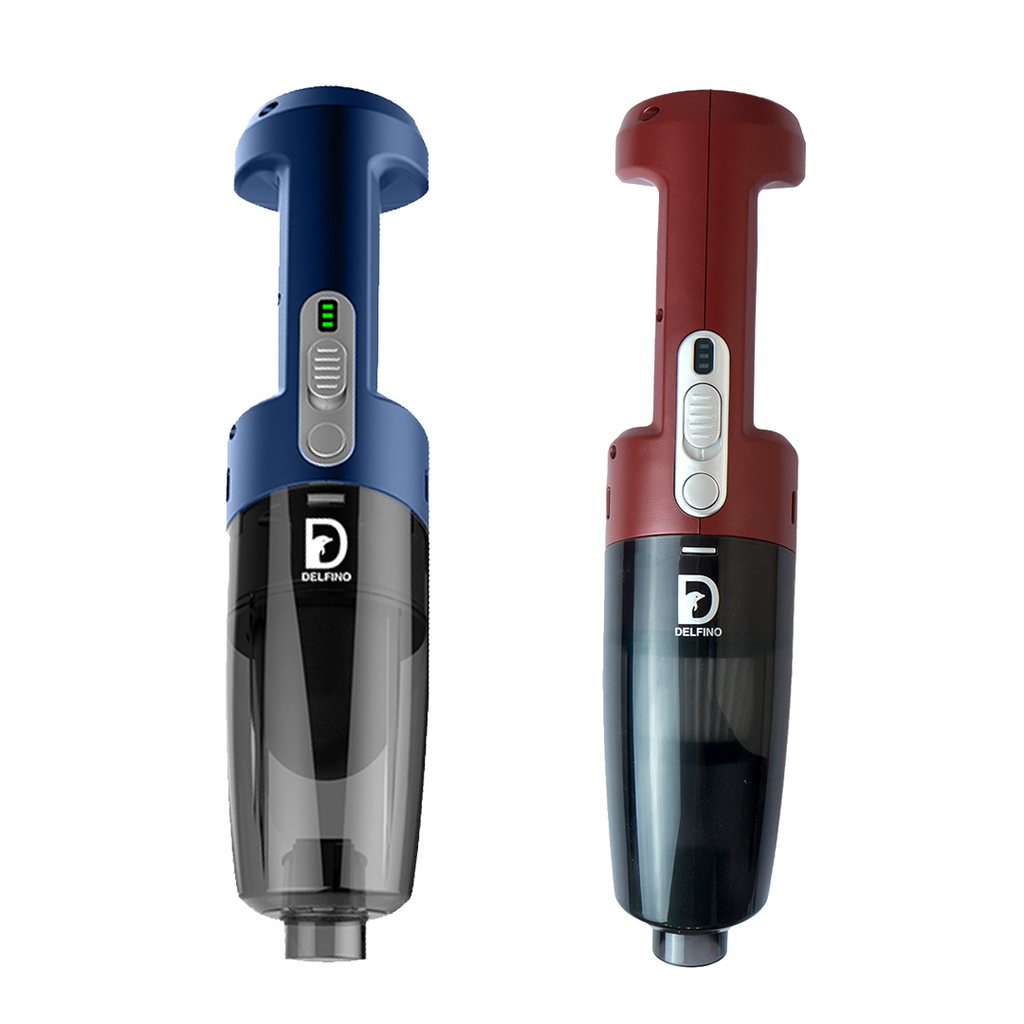 Delfino Multipurpose Cordless Vacuum Cleaner
WHY CHOOSE DELFINO HANDY CORDLESS VACUUM CLEANER

It allows you free movement from room to room, avoids the hassle of a cord. Its lightweight and ergonomically designed which will help you escape from fatigue clean. You can pick up dust buster, pet hair of your Car & Kitchen easily and quickly.

✅ Strong Suction & Low Noise:
Allow it absorbs all dirt quickly and easily. The powerful and durable motor rotates at a max speed of 39000 r/min, reducing the noise to 75dB, and increasing the suction to 5000Pa
✅ Washable & Removable HEPA Filter:
The filter can be taken out and can be washed with water. Small tips: the filter should be cleaned up every time after use to make sure it can work normally next time.
✅ Easy to Wash:
Thick ABS cover + quick-drying non-woven fabric + blasting sponge enable the vacuum cleaner to be durable, rust-free, washable and quick-drying.
✅ Its transparent upper dustbin case make it easy to view what has been sucked and removed
✅ Long Battery Life for wireless vacuum cleaner:
Equipped with 18650 batteries, the vacuum cleaner can run for over 30 minutes while providing robust absorbing pressure.
✅ Rechargeable Li-ion:
The 12V cordless vacuum with a rechargeable lithium battery is convenient and energy-saving. It takes 4 hours to fully charge, and the continuous using time is 20 minutes.
Details:

Battery capacity: 7.4V/3000mAh Input current: DC 5V/3A(max) Absorbing pressure: 5000Pa
Charging: USB
Output power: 80W
Rated speed: 39000r/min
Rated voltage: DC 7.4V
Vacuum suction power: 5000PA
Length: 38.5cm
Rated input power: 100W (wireless) / 120W (wired)
Application: car, home
Style: wireless / wired
Color: Navy Blue, Maroon Red
Material: ABS